France Asia Art Archives (FAAA) is a 20th century art advisory, provenance and research organisation founded by Helen Szaday von Gizycki, a board member of the European Chamber of Art Experts (CEEA). She has over twenty years of experience in fine art advisory, expertise, and provenance research for private and institutional clients in Europe, USA, Asia and Australia.
FAAA private and institutional clients consider us to be an art provenance, expertise and research 'detective agency'. Client work is undertaken using our knowledge of English, French, Japanese and Mandarin Chinese.
After several years working as a private banker for Asian high-net-worth individuals at Citibank in New York and then in Tokyo, Helen joined Sotheby's as Managing Director of Sotheby's Financial Services (Asia). She later moved to Paris where she concentrated upon business development, research and expertise in 20th century Asian paintings for Sotheby's auctions in Tokyo, Taipei, Singapore and Hong Kong.
After a fifteen-year Sotheby's career, Helen established an independent art advisory business in Paris which has now evolved into FAAA.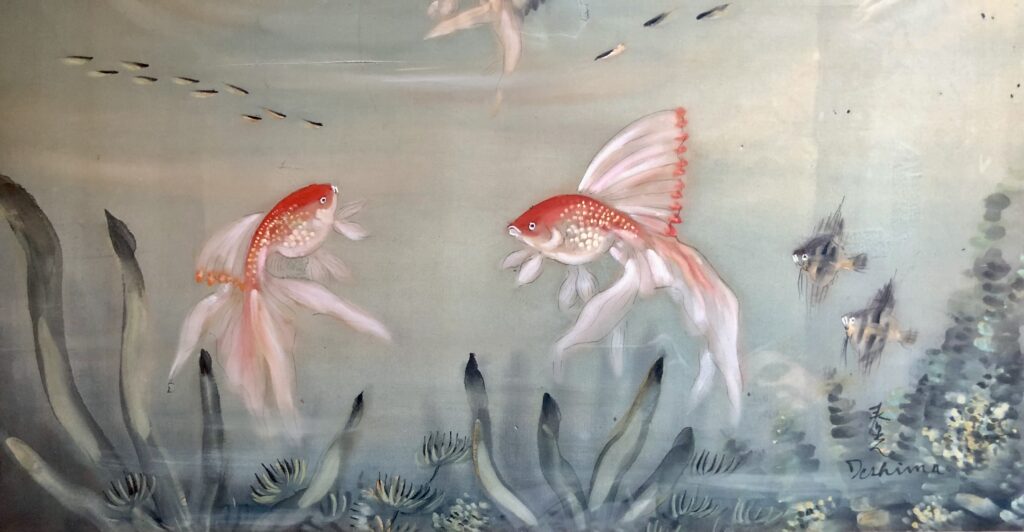 DESHIMA Shunko (Keitaro), (1898-1940), oil on silk, Paris
The services offered by France Asia Art Archives include:
Sourcing of works and building of collections for private and institutional collectors both in Asia and Europe
Market and provenance research, condition reports and documentation
Private negotiation and public bidding as an art agent
Management of transportation, valuations and art insurance and restoration
Examination of legal and fiscal issues surrounding the purchase or sale of a work of art
Our services are provided on a fee basis. Clients pay an agreed percentage of the purchase or sale price as our transaction commission. Advisory fees are negotiated on a hourly or daily basis depending upon the clients' specific needs.
All client work is handled on a strictly confidential basis.
Questions and enquiries ?
Previous enquiries have resulted in important discoveries. Please feel free to contact us with your research or your artwork sourcing request. FAAA will respond as soon as possible.
© Copyright 2023 France Asia Art Archives